IS THIS YOUR FIRST ENDURO RACE? READ OUR ENDURO FREQUENTLY ASKED QUESTIONS *HERE*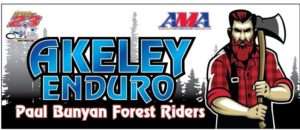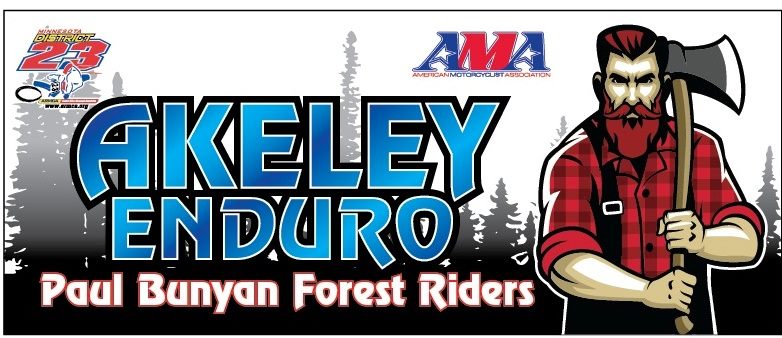 The Paul Bunyan Forest Riders motorcycle club is hard at work cleaning trails for what's shaping up to be an incredible race this year. For 2020 the Enduro is being held on the West side of Hwy 64. The event is a restart format, with resets between each test. The race start and camping is at the Stompin Grounds campground, just north of Akeley on Hwy 64. Look for the Blue Stompin Grounds sign, as well as Orange arrows. There is also first-come-first-served dispersed camping available at the Main Martineau OHM Trail Head. Social distancing requirements are in effect for all camping areas within the Paul Bunyan State Forest. You can learn more about dispersed camping here- https://www.dnr.state.mn.us/state_forests/dispersed-camping.html
Our Adult Race Trail Boss is Curt Plazk, and our Youth Race Trail Boss is Keith Wiger. Please contact them if you'd like to help our club before and during this event.
PRE-REGISTRATION is required for sign-up for this event. Pre-registration via MotoTally will open on Thursday, July 23rd at 7:00pm. This is the link to Pre-register
→ DOWNLOAD the Sunday Race Route Sheet HERE ←
→ See the Sunday Race Starting Grid HERE ←
The DNR is issuing a permit for this event, based on everyone following the Safe to Race Protocols listed below.
THERE ARE NO EXCEPTIONS TO THESE RULES.
All trash/garbage must be taken home with you.
No AMA card sales at the event. You must get AMA cards in advance.
No district card sales at the event. You must get District 23 cards in advance.
Pre-entry only. There will be no race-day sign-up. All sign-ups will be done online in advance of the event. The MotoTally Pre-registration link will be posted on this page at 7:00pm on Wednesday, July 29th.
HEIC (Health Executive In-Charge) will be Curt Plzak.
No spectators. Family units are ok assuming the family lives in the same residence.
Each rider is allowed one support person.
Upon "gate" entry, each vehicle will stop and riders will show current AMA and District 23 cards or email confirmation of one-day memberships. One liability release waiver per vehicle will be used. You must provide your own pen. A packet will be given to each rider containing riding number, score card, route sheet, "Riders' meeting" handout.
Each person in the vehicle will receive a disposable face mask if they do not already have one per person in the vehicle.
Attendees must stay in units of less than 10 people and follow social distancing guidelines.
No in-person rider's meeting.
Key time is 9:00 a.m. Usual staggered start of four riders per minute. Do not come to the start until two minutes prior to your starting time. Riders only at start.
At resets and gas stops, helmets must remain on the riders. Anyone without a helmet on must wear a face mask.
No support crews permitted at gas stops. Gas cans will be trailered to gas stop and be placed in pods of 10 or less.
At the conclusion of the race, riders must pack up their belongings and leave, because all scoring will be done remotely and off-site.
Scores will be posted online before 12:00pm Monday, August 17th.
There will be a 24-hour protest period. Protest will end 12:00pm, Tuesday, August 18th.
Trophies will be mailed to the recipient address provided on pre-entry form.
All workers will wear face masks.
All parking will be set up to enforce social distancing, and strictly enforced.
If you are experiencing a fever, cough or other Coronavirus symptoms, please do not come.
If you are not prepared to follow these guidelines, you should not come to this event. If you come to the event and do not follow these guidelines, you will be asked to leave.
*There will be no exceptions to any of the Safe to Race protocol. You can either follow the instructions or not participate. Those are the choices for us to be able to hold an event.*
The schedule for the weekend is as follows:
Saturday, August 15th:
The Youth Enduro classes race on Saturday. Sign-up for all youth classes will be pre-register only. You will pick up your Racer Packet at the Stompin Grounds.
The Micro/Macro classes will run on "Lower Blue" across Highway 64 from the Martineau trailhead. This will be Hare Scramble style, using some of the public trail and opening up the 50cc section of the "special use" trail.
Premier, PeeWee and Girls classes will run an Enduro style race like last year, starting and ending at the Martineau Trail Head this year. The total mileage for this race is approx. 14 miles divided into 3 timed sections.
Maps to the Youth races will included in your Racer Packet.
Youth Event Racer Packet pick up: 11:30am – 2:15pm at the Stompin Grounds
Micro, Macro Start: 1:00pm (Allow 10 mins travel time from the Stomping Grounds to the start)
Premier, PeeWee, Girls Start: 3:00pm (Allow 10 mins travel time from the Stomping Grounds to the start)
Sunday, August 16th:
The AA, A, B and C classes will race on Sunday, August 16th. The course for AA, A and B is approximately 50 ground miles, divided into 5 timed sections. The C class course is approximately 42 miles, divided into 4 timed sections. The race start is at the Stompin Grounds. There will be a Main Gas and an Optional Gas, in separate locations. Two separate gas trailers will bring your cans to both gas stops. So, if you need optional gas, be sure to bring two cans. The course will be approx. 23 miles from Start to Main Gas, approx. 17 miles from Main Gas to Optional Gas, and approx. 10 miles from Optional Gas to Finish.
Main Event Racer Packet pick up: 5pm – 7pm Saturday, and 7am – 8:45am Sunday at the Stompin Grounds
Keytime: 9:00am, with the first riders leaving at 9:01am
Requirements:
AMA card (or proof of One-Day only membership)
District 23 card (or proof of One-Day only membership)
Parent present with minors
US Forestry Service Approved spark arrestor
Your exhaust must pass 96 decibels or lower, as per AMA rules.
Entry Fees: (all classes Pre-entry online only)
$50.00 AA, A, B, C Enduro (Sunday)
$20.00 Micro, Macro Enduro (Saturday)
$20.00 PeeWee, Premier, Girls Enduro (Saturday)
IS THIS YOUR FIRST ENDURO RACE? READ OUR ENDURO FREQUENTLY ASKED QUESTIONS *HERE*