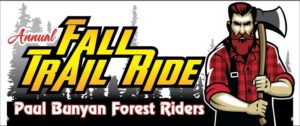 2020 PBFR Annual Fall Trail Ride / New Member Drive
Saturday and Sunday, October 17th-18th
Come and enjoy a fall color riding weekend before the forest closes for the season. And while you're there, learn more about the Paul Bunyan Forest Riders to see if you'd like to become a member.
For those of you new to this event, it's not a large group trail ride. It's a get-together of riders who can create their own informal groups with as many people as they like. Sometimes people come to our event thinking they have to ride in a large group with everyone else. That's not the case. There will be numerous informal groups riding. If you come by yourself, feel free to ask if you can join in a group. It's the perfect way to meet other riders! The groups tend to form with riders of somewhat similar skill levels. That way you won't feel like you need to keep up with super-fast riders if you don't want to. This trail ride is designed for beginners to experts, and everyone in between.
We'll be basing our rides out of the Stompin' Grounds campground, 3.6 miles north of Akeley, MN on highway 64. Look for the blue Stompin' Grounds signs. This is where we will have registration, we will have maps available, and club members will be available to answer any questions you have. We can also point you out to a group of riders than may be of simular skill level as you. The event is Sat and Sun of MEA weekend, but many make it a 4 day family fun weekend.
There is no charge for the trail ride (free will donations are accepted).
The only requirements to join in are:
Sign an AMA insurance waiver.
Have a DNR Registration Decal on your bike.
Have a USFS approved spark arrestor.
Pass a sound check of 96 db maximum if you are tested.
Stompin Grounds lodge will be open for lunch and dinner all weekend. They have great food!
Camping: You will have to pay a camping fee if you choose to stay at Stompin' Grounds. The fee will vary depending on how you are camping. Call Steve and Connie at (218) 652-2964 or Toll Free at (800) 725-1579 to reserve a campsite. Another option is to camp for free at the Martineau Trailhead located 6.5 miles north of Akeley, MN on highway 64. It is free and primitive, first come first served. Or, you can just show up and ride for the day.