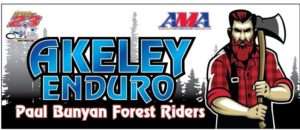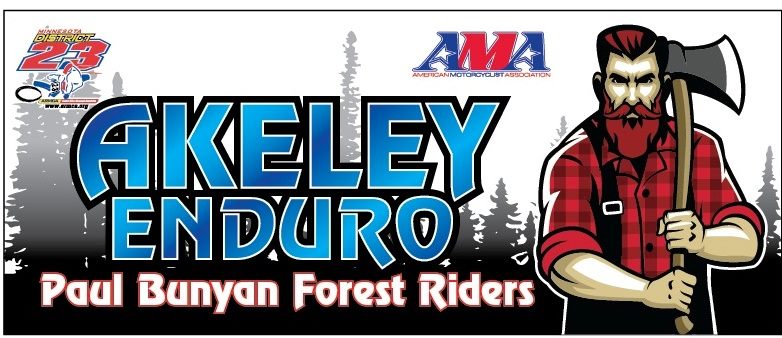 The Paul Bunyan Forest Riders club is hard at work cleaning trails for an incredible race this year. This year the Enduro is being held on the East side of Hwy 64. The event is a restart format, with resets between each test. The race start and camping is at the Stompin Grounds campground, just north of Akeley on Hwy 64. Look for the Blue Stompin Grounds sign, as well as Orange arrows.
The Stompin Grounds Lodge will have their kitchen open all weekend, so there's no need to bring your pots and pans if you'd rather just relax with friends. Our Adult Race Trail Boss is Curt Plazk, and our Youth Race Trail Boss is Keith Wiger. Please contact them if you'd like to help our club before and during this event.
The schedule for the weekend is as follows:
Saturday, August 17th:
The Youth Enduro classes race on Saturday. Sign-up for all youth classes will be in the Stompin Grounds Lodge.
The Micro/Macro classes will run on "Lower Blue" across Highway 64 from the Martineau trailhead.  This will be Hare Scramble style, using some of the public trail and opening up the 50cc section of the "special use" trail.
Premier, PeeWee and Girls classes will run an Enduro style race like last year, starting and ending at the "Gravel Pit" this year.  The total mileage for this race is approximately 17 miles. The race has 3 timed sections and one transfer section, with an optional gas stop parents can go to.  The location for optional gas will be given during the riders meeting.  There should be enough time to watch the entire start and drive to optional gas before the first rider arrives.
In all classes except Premier, parents will be allowed to ride with racers, if the parent thinks the racer needs them.  We'll have lots of sweepers on the course so parents are not encouraged to ride, but they are allowed.  Parents are expected to act as sweepers and help kids other than their own if they find them down or off course, so there is a good chance you will lose track of your own rider between checks if you do ride.
Maps to the race will be available at sign-up.
Youth event Sign-up: 11:30am – 2:15pm (Stompin Grounds Lodge)
Micro, Macro Start: 1:00pm (Allow 10 mins travel time from sign-up to start, and a riders meeting at 12:50.)
Premier, PeeWee, Girls Start: 3:00pm (Allow 25 mins travel time from sign-up to start, and a riders meeting at 2:45.)
Sunday, August 18th: 
The AA, A, B and C classes will race on Sunday, August 18th. The course for AA, A and B is approximately 55 ground miles, divided into 5 tests. The C class course is approximately 45 miles divided into 4 tests. The race start is at the Stompin Grounds. The Main Gas stop is at the gravel pit. A gas trailer at the Stompin Grounds will bring your cans to Main Gas, and back again after the race. An Optional Gas stop is located across the highway from the Martineau Trailhead. There's not a trailer going to Optional Gas, so you'll need to drop off gas if you require it. A gas stop location map will be available at sign-up.
Main Event Sign-up: 5pm – 8pm Saturday, and 7am – 8:45am Sunday (Stompin Grounds Lodge)
Keytime: 9:00am, with the first riders leaving at 9:01am
Requirements:
AMA card, parent present with minors (racing or spectating)
District 23 card (one day membership available at sign up)
US Forestry Service Approved spark arrestor
SOUND TEST WILL BE GIVEN. You must pass 96 decibels, as per AMA rules.
$40.00 AA, A, B, C Enduro (Sunday)
$20.00 Micro, Macro Enduro (Saturday)
$20.00 PeeWee, Premier, Girls Enduro (Saturday)