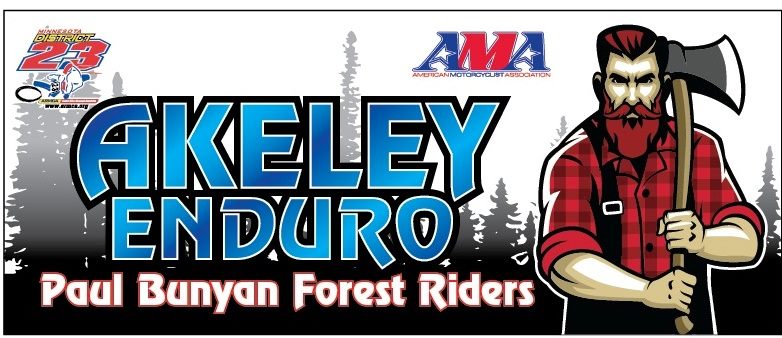 WHAT SHOULD I BRING TO AN ENDURO?
Besides your bike and riding gear, bring extra gas, snacks and water. If camping the night before, bring normal camping gear. Always be prepared for rain, whether camping or racing. Determine how many different gas cans you will need to bring for the race from the entry information, or contacting the promoting club before event. Some races have all gas stops at the same site which means you only need one gas can. Others will have gas stops in different locations and you will need a can for each. Check Facebook or the promoting club's website for race details.
WHEN SHOULD I PLAN TO ARRIVE?
Many racers arrive at the race site on Saturday afternoon and camp. Others arrive early on Sunday. Arrival decision factors are sign in times, whether camping is allowed or not, and how close you live to the event. If you camp the night before, don't stay up too late around the campfire. You'll want a good long sleep for Sunday's race!
WHAT HAPPENS AT SIGN-IN?
At Sign In, you'll receive your rider's packet for the rider minute (row) you choose. The packet will include a scorecard for your fender, a row number decal for your bike, a route sheet that describes the race course, and other misc info the promoter may include (free stickers-YAY!). Also, there is usually a Keytime clock displayed which has the official time. You may want to adjust your wristwatch to your personal Keytime (Keytime minus your rider minute) so you'll know when to go to the start line, as well as various times during the race. Having your watch adjusted to your personal Keytime is sort of nice, but not absolutely necessary. There may also be a map provided for friends and other spectators to travel to and from Gas Stops during the race just to check on you. Keep in mind you need both an annual AMA and a District 23 membership when you sign up to race a AMA District 23 event. You can purchase both yearly memberships at the race. There is an option to purchase a 1-day District 23 membership if you are from out of state, or only plan to race once this year.
WHAT CLASS SHOULD I SIGN UP FOR?
In AMA District 23, if your age is under 30, your choice of class is limited to your bike displacement and skill level. The skill levels are C, B, A, and AA. If your age is 30 or over, you may choose a bike displacement class, or a class based on your age and skill level. There are age classes in C, B, and A skill levels. The age classes are 30+, 40+, 50+, 60+ and yes even 70+. There is a Ladies and a Ladies 30+ class for those wishing to race against women only. There are also 2 Sportsman classes. Sportsman classes do not receive AMA District 23 points for yearly standings, which could be important if you feel you can race with the top riders in your group for Overall Year End Standings. If your age is 30 or over, you can ride all previously mentioned classes, or Vet C, B, or A. Likewise, riders age 40+ are eligible for Senior C, B, or A. 50+ are eligible for Super Senior C, B, or A. 60+ are eligible for two Masters classes, one with a shorter course length. And let's not forget, we have a 70+ class! Talk about your Weekend Warrior! You may ride in your appropriate age class, or in a younger class if you wish.
WHAT IS A "RIDER MINUTE" AKA "ROW NUMBER"?
A "Rider Minute" is your assigned start time (also called your Row Number). Most events begin at 9:00, with first riders out at 9:01. If you are on a Rider Minute of 33 for instance, you will take off from the start line in the morning at 9:33. Typically there are 4 riders per minute at AMA District 23 races. The four riders are designated A, B, C, or D. This designation has nothing to do with skill level, it's just a way to differentiate between the riders on the row. So for example, row 33 will have 4 riders, 33A, 33B, 33C, and 33D. Keep in mind, you aren't necessarily in competition with the 3 other riders on your row. Those 3 riders will likely be racing a different class than you. You are only racing the other riders in your class, who are likely scattered throughout the race course in different rows than you. So, you won't really know how you finished up until after the race. You might have a general idea if you rode"well" or "poorly" but you won't know how you compared to the other riders in your class until all scorecards are tallied up.
WHAT DO I DO WITH MY NUMBER DECAL AND SCORECARD?
Mount the number decal on your front number plate. If you already have a number on your front plate for Hare Scrambles or Motocross, that number will be irrelevant, you'll stick the decal on top of it. Attach your scorecard to your front fender by duct taping around edges, taking care not to tape over any sections that will be written on by the Checkpoint personnel.
WHAT IS A RESTART FORMAT ENDURO?
All Enduros in AMA District 23 are now "Restart Format". This type of Enduro takes the question out of when you need to go your fastest. A wristwatch is recommended, but usually not necessary. The Restart Enduro is broken into "Test" sections followed by "Transfer" sections. Transfer sections will get you from one test section to another. A typical Restart Format Enduro can be summarized with the following: Show up to the start line 10 minutes or earlier than your scheduled departure time. If the first section is a test section, you will go as fast as you can until the end of that section. At the end of the test section you will come to a Checkpoint where race workers will write the time on your fender mounted scorecard. After your time is recorded, you will ride at a brisk pace through the transfer section that will take you to start of next test section. Normally if you didn't have too many problems in the test and transfer sections, you will now have some free time to grab a drink, snack, or possibly gas before the next test section starts. And of course, you'll definitely want to compare your test section time with your friends, to see who's fastest. That's imperative!
WHAT IS A TEST SECTION?
A "Test Section" is a section of the race course that is timed for scoring. This is where you go as fast as you can. The speed average through a Test Section is set high enough so even the fastest AA riders will be behind schedule, and will be a little late arriving at the Checkpoint. Arriving late results in penalty points, which are entered on your fender scorecard by a Checkpoint worker. Some Checkpoints may record only the Minutes you are late, while other Checkpoints may record both Minutes and Seconds. The points from each Test Section are added up at the end of the race to determine your total score.
WHAT IS A TRANSFER SECTION?
A "Transfer Section" is a section of the race course that links Test Sections together. The speed average through a Transfer Section is typically a brisk trail riding pace. You aren't being timed through the Transfer Sections, so you generally don't need to ride at race speed. However don't dilly-dally, or you may find when you arrive at the next Checkpoint you're late for your Rider Minute!
WHAT'S THE DIFFERENCE BETWEEN A LONG AND A SHORT COURSE?
The "Short Course" is also known as the "C-Class Course". At the end of the course there is often a sign stating that it is now time for the "C-Out". The "Long Course" is for the B, A, and AA riders. Not all Enduros have a Short Course or "C-Out". At some Enduros the C classes race the same length as the B, A, and AA classes.
IS THERE A SOUND CHECK BEFORE THE RACE?
There normally is a sound test during the sign up process. Your bike will need to be 96 decibels or lower in order to race. Loud pipes hurt our sport by making enemies with pedestrians and equestrians!
WHAT HAPPENS AT THE RIDERS MEETING?
Now is when excitement really starts to build! The Riders Meeting is held on Sunday morning approximatly 30 minutes before the first row stars. There the race organizers will give out important information about the course, gas stops, start location, and answer questions. If it hasn't been addressed yet, the location of gas stops or trailers for gas cans will be revealed. Label your gas can with your name, and perhaps a unique identifier of some sort that will allow you to quickly spot it among 200+ other cans.
WHEN SHOULD I GET TO THE START LINE?
Once you know where the start line is, you can determine what time you need to leave your pit area. You should plan on arriving at the starting line at least 10 minutes before your scheduled start. While you are waiting for your minute to come up, you can see how the start is handled. Watch how the starter person counts down, and how the racers leave the line only when he says "GO!". Do not pin it off the starting line, the people working the race will not appreciate being roosted! Essentially, you will queue up behind the minute in front of you. So, for example, if you are on minute 33, you will be right behind the minute 32 riders and right in front of the minute 34 riders. This is the same procedure you will follow during every Test Section Start.
WHAT HAPPENS AT CHECKPOINT STATIONS?
When approaching Checkpoint workers, approach at a safely controlled speed and stop immediately when told to. The workers at the Checkpoint will write your score on your scorecard, and then you can proceed through the check. As in the start, do not roost workers when leaving the Checkpoint !
WHAT HAPPENS AT GAS STOPS?
The gas trailer will be waiting for you at the Gas Stop. It's sometimes a hectic place, so it's a good idea to clear the Gas Stop designated area upon gassing completion, to allow others room. Unless you've had problems with the course leading to Gas Stop, you should have plenty of time to gas your bike, grab something to eat, etc. Time available is typically listed on the route sheet picked up at Sign In.
WHAT DO I DO WHEN I FINISH THE RACE?
Upon finishing the race, turn in your scorecard before going back to the pits. Sometimes this happens immediately following the last Checkpoint, but often it's a fair distance down the trail. Ensuring you turn in your scorecare allows for faster event scoring, so everyone can get on the road home sooner. Always turn in your scorecard even if you DNF (Did Not Finish). The promoting club workers try to account for all racers, and missing scorecards may result in wasted time searching for you on the course after all riders have gone through.
HOW DO I KNOW HOW I SCORED?
After you turn in your scorecard the race workers will tally up all cards and post the results. This normally happens approximately 30 minutes after the last racer finishes. The results will be posted on a board in the pits, likely where the riders meeting was held. You can also tally up your own scorecard to compare to the official results. After a designated results protest period, trophies will be awarded to the top finishers in each class. Now is the time to high-five all of your friends, because you just finished your first AMA District 23 Restart Enduro!
LEARN DETAILS ABOUT THE 2023 PAUL BUNYAN FOREST RIDERS ENDURO RACE IN AKELEY, MN *HERE*
Consider donating to the Paul Bunyan Forest Riders

The club was incorporated as a 501c3 non-profit in 2007, and is supported by a MN Grant-In-Aid. We appreciate donations to help us purchase club-owned power tools to ease some of the burden of maintaining the trail system.